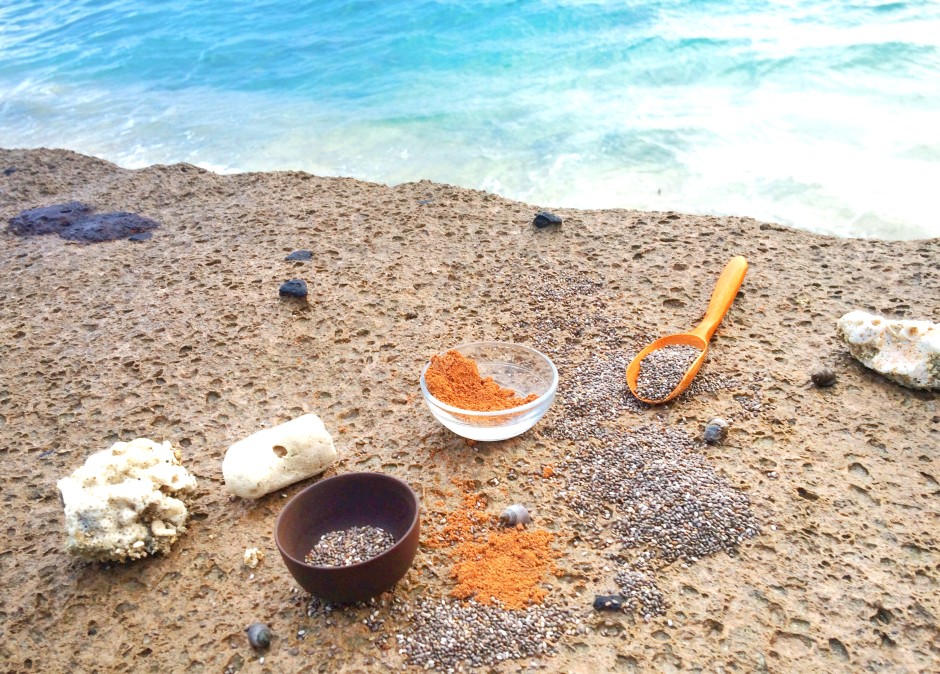 Summer is approaching, and travel plans are now in action… It's not always that easy to stay healthy and nourished as you travel, partly because airport security doesn't allow you to take your Love Grace juice bottles on the plane, and partly because not every travel destination has as many health food stores and organic restaurants as New York City… So here are a few travel essentials to help keep you healthy and junk-food-free during your travels as you endure long flights and keep you balanced as you indulge in all the local favorite dishes!
1. Chlorophyll:
A lot of the time when we travel to foreign countries, the culture's cuisine doesn't always offer a huge range of vegetables. Sometimes it can even be impossible to get your hands on an organic green juice! A small bottle of chlorophyll will be your best friend in these situations: add a few drops to your water bottle on the plane, when you wake up and before you go to sleep to infuse your body with alkalizing goodness. Studies have shown chlorophyll can be effective in combatting bad breath, constipation, and aid in detoxification and building of red blood cells!
2. Chia Seeds:
The smart way to avoid risky airplane food without going hungry or depleted – add a few tablespoons of chia seeds to your water, juice or almond milk, stir/shake in bottle, let sit for a few minutes until the seeds expand to create a thick, gel-like consistency and you have a nutrient dense drink to keep you satisfied on the go! Chia seeds are rich in omega-3 fatty acids and fiber and have been shown to reduce food cravings, control blood sugar and keep you hydrated. Chia gel can even act as a meal replacement if you find yourself in a situation without any healthy food choices!
3. Lemon Essential Oil:
Since we can't always carry fresh lemons around with us to squeeze into our morning water, lemon essential oil is the ideal substitute. Just one drop of food-grade lemon essential oil has the concentration of 20 cold-pressed lemon rinds! A couple drops into your water first thing in the morning can help to balance your body's pH levels. Throughout the day, drinking lemon infused water can help invigorate your body to promote focus and clarity, as well as help with heartburn or indigestion, purify tap water, and even relieve itching from insect bites when applied topically! If you can't find organic produce in your destination's local market, the oil can also be used to clean fruits and vegetables! It tastes great in water as a refreshing tonic on the plane too. The perfect travel companion.
4. Ginger Powder:
Hot travel destinations usually come with heavy, oily and hard-to-digest foods. Avoid the hassle of traveling with bulky boxes of herbal teas and digestive supplements, and throw a bottle of organic ginger powder into your handbag. Add the powder to hot water to make a zingy tea to help you digest your exotic holiday food or even replace your morning coffee and start your day with a detoxifying kick!
5. Coconut Oil:
The ultimate multi-tasking travel necessity, coconut oil can be used externally on the skin as a body moisturizer, after sun, and face moisturizer to avoid dry skin in hot climates! Coconut oil has antibacterial properties and can help with skin infections and insect bites, or even as an oral swish if you forget to pack your toothpaste! Internally, you can put coconut oil on virtually anything: a tablespoon of the healthy fat in your morning coffee can extend energy to avoid the coffee jitters, drizzled on your sweet tropical fruits to stabilize blood sugar and avoid sugar highs, or even on your morning toast if you can't get your hands on any organic grass-fed butter!
These simple and inexpensive buys will allow you enjoy all the pleasures and flavors of your destinations without compromising on feeling amazing the whole trip.
Happy traveling,
Isabella Gucci-Ruffalo xoxo